This article is about the song. For the spell, see Unmaking Spell.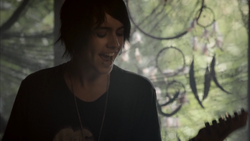 "Walk Upon This Earth Again" is a song and spell in Nowhere Boys that Felix Ferne sings to a track played on his electric guitar. He shows it to Oscar, Ellen, and finally, Sam, Jake and Andy, whilst lost in the forest, and transporting them to another universe.
The song has a "full" version as seen on the Nowhere Boys soundtrack, as sung by Dougie Baldwin.
External links
Edit
Ad blocker interference detected!
Wikia is a free-to-use site that makes money from advertising. We have a modified experience for viewers using ad blockers

Wikia is not accessible if you've made further modifications. Remove the custom ad blocker rule(s) and the page will load as expected.