This article is about the song. For the spell, see Unmaking Spell.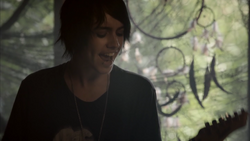 "Walk Upon This Earth Again" is a song in Nowhere Boys sung by Dougie Baldwin as Felix Ferne.
It is first used in Episode 1 when Felix shows it to Oscar, Ellen, and finally, Sam, Jake and Andy, whilst lost in the forest, which is the cause for them being transported to an Alternate World.
The song has a "full" version as seen on the Nowhere Boys soundtrack, as sung by Dougie Baldwin.
External links
Edit